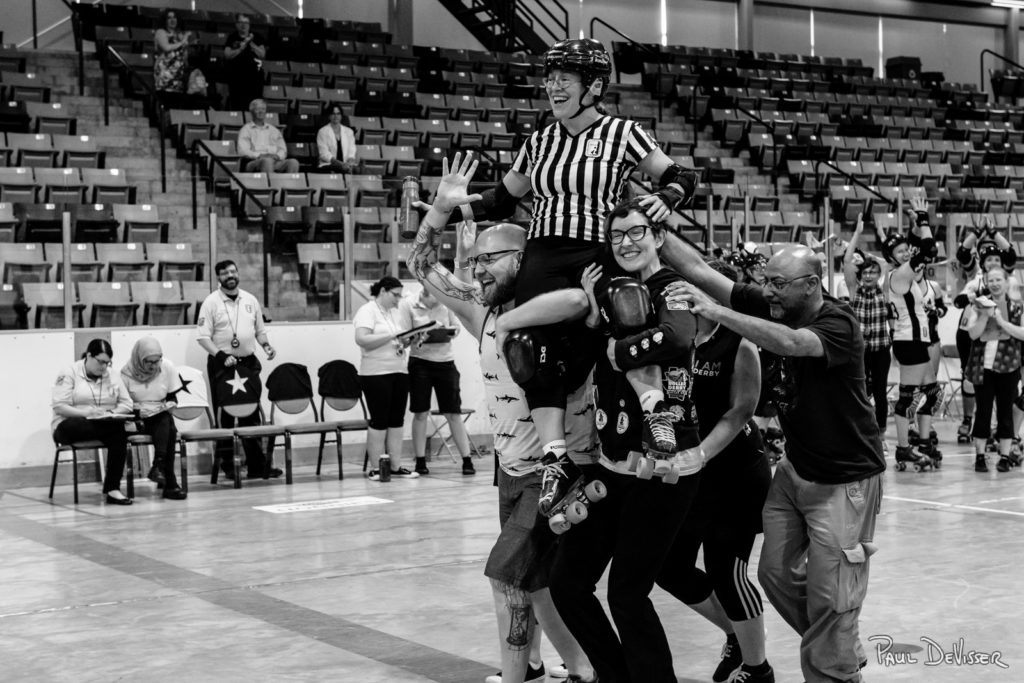 The Jules and Regulations Award of Recognition and Bursary was established in 2017 following Jules' retirement from roller derby, and honours the many contributions that she has made to officiating, mentoring, and increasing gender diversification within roller derby officiating. 
Each year this award will be presented to a female-identifying official who has demonstrated excellence in officiating women's flat track roller derby and in empowering other female-identifying officials.
The recipient of the award may be chosen from any league, and the final decision will be made by Jules and Regulations, based upon information gathered by herself and her contacts at other leagues throughout the year and her observations at Put Up Your Toques. The award will be presented by Jules at the tournament.
2018 Call for Nominees
Please complete this form to either nominate an official or to be considered for this award. This form must be received by noon EST on April 1, 2018, to be considered.
2017 Winner: Chunk Rock Girl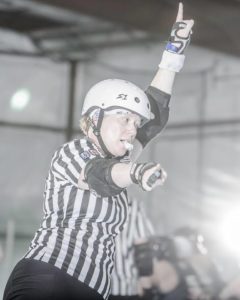 Chunk Rock Girl is affiliated with the Lansing Derby Vixens and has been officiating since October 2011.  Here's what Jules has to say about the inaugural winner of the Award:
"I first met CRG at a clinic that Matt S. Faction and I presented in Lansing in 2014. At that time she had recently made the decision to switch from NSOing to reffing. even though she was already certified as an NSO and had worked at the highest level (D1 Playoffs) as an NSO. I appreciated her tenacity: while she was well-known as a certified NSO, she began to apply to tournaments to ref only – and was fully prepared to miss out officiating at those events if she would only be accepted to NSO. She worked for years to develop her skills as a referee and traveled far and wide to gain experience.
"CRG achieved WFTDA certification as a referee in 2016 and worked her first WFTDA playoffs as a referee as an Alternate Ref in Wichita in 2016. The ALT position is a tough but necessary position, and is typically occupied by newer refs, many of them women (I was staffed as an ALT more than once at playoffs). She performed that role with grace and seriousness, and was ready to fill in for a crewmate when that became necessary due to an equipment malfunction. In 2017 she was rostered as an OPR both at the D2 tournament in Pittsburgh and at the D1 Playoff in Malmo. CRG told me that she would be putting the money she received from this bursary toward the Malmo tournament.
CRG, like many officials, has spent thousands of dollars this year alone as a roller derby official. I am grateful that Tri-City Roller Derby has recognized my career as a ref in such a way as to help offset the financial costs of another up-and-coming female official who is striving to reach her own officiating goals."
Congratulations again to Chunk Rock Girl for all of her accomplishments and successes in this year's playoffs, and thank you to everyone for their support of this bursary award. You can help by contributing to this fund: