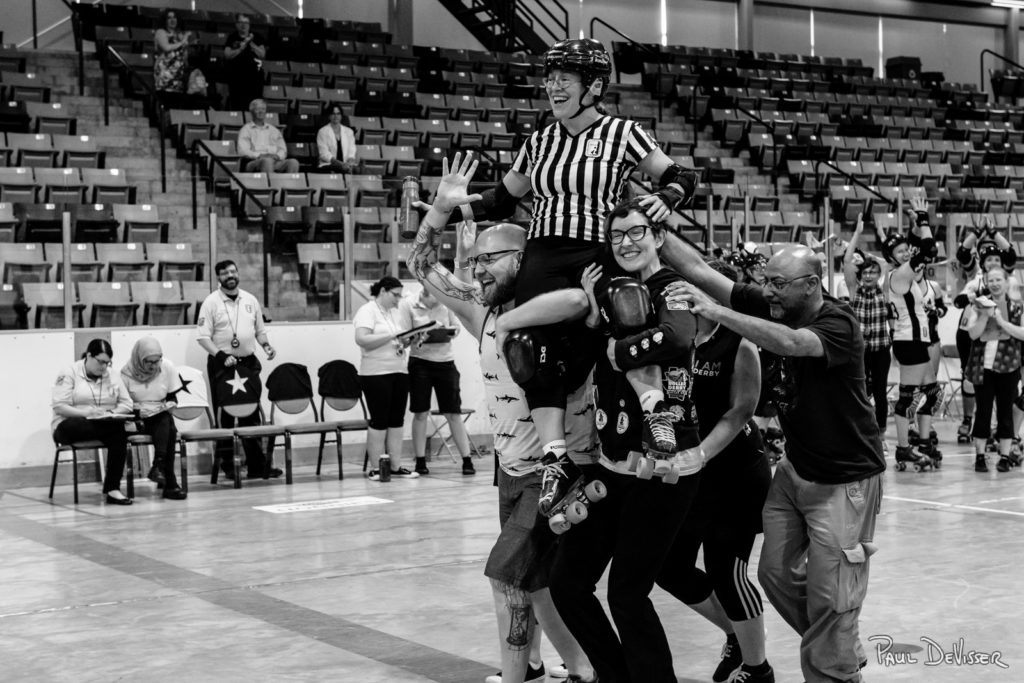 The Jules and Regulations Award of Recognition and Bursary was established in 2017 following Jules' retirement from roller derby, and honours the many contributions that she has made to officiating, mentoring, and increasing gender diversification within roller derby officiating. 
Each year this award will be presented to a female-identifying official who has demonstrated excellence in officiating women's flat track roller derby and in empowering other female-identifying officials.
The recipient of the award may be chosen from any league, and the final decision will be made by Jules and Regulations, based upon information gathered by herself and her contacts at other leagues throughout the year and her observations at Put Up Your Toques. The award will be presented by Jules at the tournament.
Call for Nominees
To nominate an official or to be considered for this award, please complete this form. Nominations must be received by midnight EST on the April 1 prior to the start of the Put Up Your Toques invitational, in order to be eligible.
Support the Award
Add your support for this bursary award. You can help by contributing to the fund: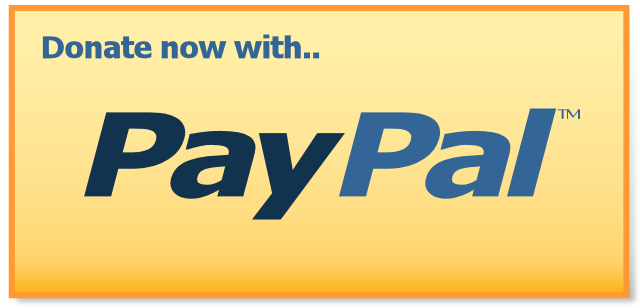 2019 Winner: April Cruel
2018 Winner: Zsa Zsa Kapow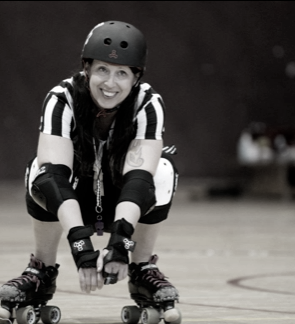 Says Jules about Zsa Zsa: "When I was learning how to be an official here at Tri-City Roller Derby, I had lots of peers and mentors. I was part of a big crew of trainee refs and for the most part we had the same goals. We all had our eyes on WFTDA Certification and working as many Playoffs as we could. Not all officials are on the same track or have the same start. In 2012, Zsa Zsa went right from being a skater to being her league's Head Ref. She didn't have senior officials in her league so she went out and found officiating mentors in other leagues on her own. She also spent a lot of time teaching herself, and, if you can believe anything you read on Facebook, she's still doing it. This is one of her statuses from earlier this year: "Kidless Friday night means I have the TV [which] means DERBY STUDY." With Forest City and on her own, Zsa Zsa's travelled all over for derby, throughout eastern Canada and the States and even into Europe. That takes a lot of commitment and resources – especially when you are a single mother of two kids.  Congratulations Zsa Zsa!"
We caught up with Zsa Zsa and what it means to her to win this award.
When and how did you get started in officiating?
I was fresh meat for Forest City Roller Derby, recovering from an injury. I was penalty box timing during a home game event, and decided I wanted to be on the track no matter what. I decided to start reffing until I was able to be rostered on a team.
The league head referee approached me shortly before tryouts, and told me he wanted to step down and have me take over. I considered the pros and cons and my life situation. I was a newly single mom of 2 very young children. I knew I couldn't make the practice commitments required for league skaters. I was about to graduate college and enter a field that was physically demanding. I knew that I'd likely have more longevity as an official as opposed to a player as I was already in my late 30s. I saw that there were fabulous travel opportunities in officiating. There are games all over the world, always looking for refs, and if you cover your travel costs, you can count on a place to crash by the host league. I also knew that I would much rather be in charge than try to function on a team with so many personalities. I'm a natural bossy pants, so all the pieces fell into place.
Describe your role as head official for Forest City. 
I've been their head official for 5.5 years, with a variety of responsibilities. I staff all of our home events and usually am game day head referee. I train new recruits, and find them games and informational links online to enrich their learning experience, as well as discuss rules with them.  I also introduce the rules of derby to our fresh meat. I often travel with the  Timber Rollers for their away games. I also field any questions the skaters have about rules specifics. This comes from not only my home league, but skaters from all over Ontario that I have reffed and they felt I was approachable.
What are your officiating highlights?
That's a tough one to narrow down! In 2016, I was a crew head for a sanctioned men's tournament. I'd never had a crew head role before, and it was the first tournament of its kind in Canada. Beast of the East 2013 was very pivotal for me. Part of reffing is networking, and the Beast has always been a blast for both officiating and meeting incredible people. Montreal Roller Derby has given me some incredible opportunities, from head reffing my first sanctioned men's game to working my first D1 level game last year. This year they made me the first non-Montreal, female tournament head of Beast. That was possibly the best thing I've ever done. Oh and I can't forget reffing a triple header in Belgium! I can't seem to travel without taking my gear and seeking games out!
What does it mean to you to receive this award?
This award made me ugly cry for many reasons. Jules has been a hero to me and many female officials for years. Her acknowledgment of my 6 years of hard work and commitment, and achievements from someone I think so highly of made it all worth it. It also inspired me to apply for playoffs this year and a Continental Cup, which I have never had the nerve to do before!
What advice would you give to newer and aspiring female roller derby officials?
It's a point of pride for me that Forest City has attracted predominantly female officials in the last 5 years. To all of them and any others in the derbyverse, I say put yourself out there. Study, continue to learn and push. To grow your skill set, you need to live outside of your comfort zone. Set goals, and make sure you have a supportive head ref to guide you. Don't be afraid to ask questions and speak up. Women in the officiating world have to work 3x harder than the men do. Carry yourself with confidence, and admit your mistakes to allow for growth. Think critically when you are given feedback. Put your ego aside, you can't hone your skills without acknowledging and correcting your mistakes. You will make mistakes, we all do. Own them, self reflect and move on. And for goodness sakes, HAVE FUN! I became a much better official when I stopped beating myself up and remembered I do this for a fun hobby!
I'm still adjusting to my peers calling me a "high level ref" – I never thought I'd go this far. Now that I have these opportunities, I plan to keep learning and striving for better and better performance and knowledge of this crazy sport we all adore so much.
2017 Winner: Chunk Rock Girl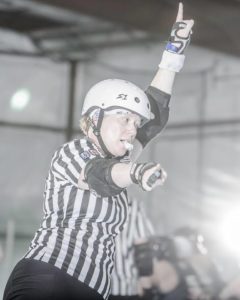 Chunk Rock Girl is affiliated with the Lansing Derby Vixens and has been officiating since October 2011.  Here's what Jules has to say about the inaugural winner of the Award:
"I first met CRG at a clinic that Matt S. Faction and I presented in Lansing in 2014. At that time she had recently made the decision to switch from NSOing to reffing. even though she was already certified as an NSO and had worked at the highest level (D1 Playoffs) as an NSO. I appreciated her tenacity: while she was well-known as a certified NSO, she began to apply to tournaments to ref only – and was fully prepared to miss out officiating at those events if she would only be accepted to NSO. She worked for years to develop her skills as a referee and traveled far and wide to gain experience.
"CRG achieved WFTDA certification as a referee in 2016 and worked her first WFTDA playoffs as a referee as an Alternate Ref in Wichita in 2016. The ALT position is a tough but necessary position, and is typically occupied by newer refs, many of them women (I was staffed as an ALT more than once at playoffs). She performed that role with grace and seriousness, and was ready to fill in for a crewmate when that became necessary due to an equipment malfunction. In 2017 she was rostered as an OPR both at the D2 tournament in Pittsburgh and at the D1 Playoff in Malmo. CRG told me that she would be putting the money she received from this bursary toward the Malmo tournament.
CRG, like many officials, has spent thousands of dollars this year alone as a roller derby official. I am grateful that Tri-City Roller Derby has recognized my career as a ref in such a way as to help offset the financial costs of another up-and-coming female official who is striving to reach her own officiating goals."
Congratulations again to Chunk Rock Girl for all of her accomplishments and successes in this year's playoffs!