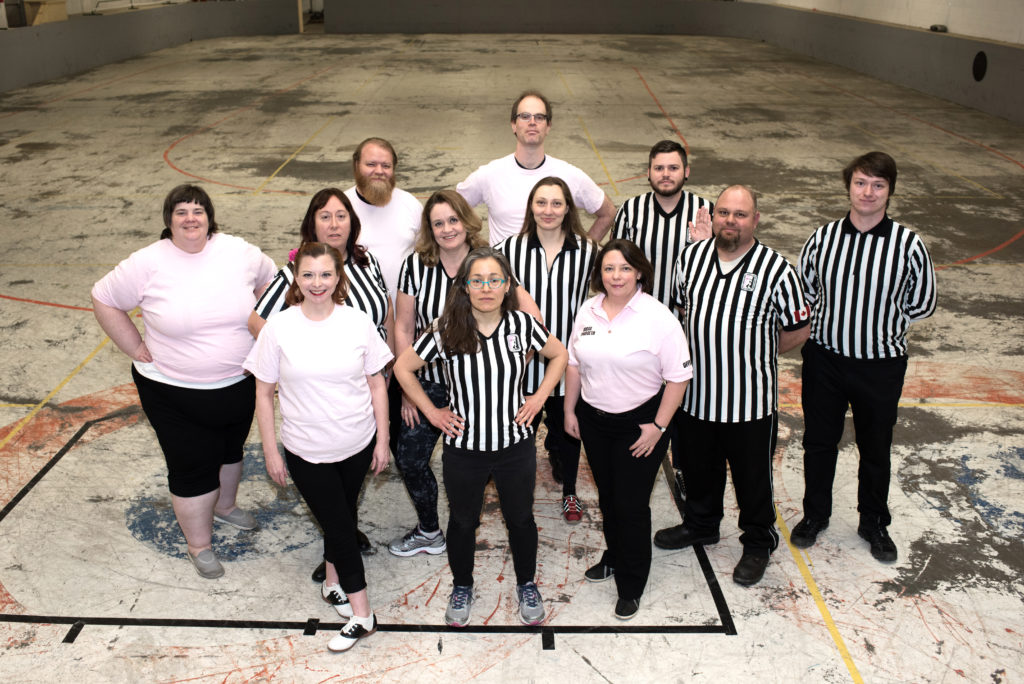 Interested in joining Tri-City Roller Derby but don't actually want to play? Our league is always looking for officials, bench staff, and volunteers.
Officials
Our officiating team is one of our greatest assets. You could train with our experienced officiating crew! As a referee, you will learn to skate, plus all the intricacies of the rules. You will attend practices, and learn through practical experience.
If you'd rather officiate from the safety of your shoes, we are also seeking Non-Skating Officials. As an NSO, you will be responsible for such things as recording vital information, timing penalties or running the scoreboard at games. No skating or officiating experience is necessary. Contact us at officials@tricityrd.com to get started!
Bench Staff
We have two open positions on the Tri-City Thunder Bench to join with Head Coach Dylan Powell and Bench Manager/Trainer Lilith NoFair (Laura):
1. Trainer/Mood Minder/Half Track: Ideally you have skating experience, experience as a trainer, and/or are a trained professional (physiotherapist, medic, etc.) You have a calm demeanour, enjoy team sports, and can make Tuesday 7pm-10pm practices with regularity and can travel with Thunder.
2. Stat Rat: Ideally you have experience with sports stats, spreadsheets and derby specific stats. You are detail oriented and like playing with numbers and finding new ways create useful data. You can make Sunday 2pm-3:30pm practices with regularity and can travel with Thunder.
Both positions will come with support and both positions carry the option of taking a larger role with the return of the Tri-City B Team (managing lines, in-game coaching) if desired.
Please fill out this Google Form if you're interested.
Volunteers
Are you interested in roller derby? Energetic? Positive? Maybe you're a student needing volunteer hours? Well, we want you! Not sure what role you could play? No worries, we can find the best fit for you.
We roll thanks to all these roles! Interested in joining us? Get in touch!